to create the cut away card. I needed to make the steps as minimal as possible for a beginner class, with some portion of the files being provided (rose). Here is what I came up with, hopefully someone will find this useful. The result is a card with a rose cut away in the top right corner similar to others that have been shown on the forum.
- Draw a rectangle for the size of the finished card before folding, mine is 11 x 8.5 inches (white)
- position the object that will be used to cut away from the card, in my lesson its a rose file I snagged from a google image search, shadow was added to use to create the edge (rose), on a separate layer
- on a new layer, create a rectangle shape that is taller and wider than the card on the corner to be cut away; line the edges up with the object (the rose shadow) to make the best or most appealing cut away edge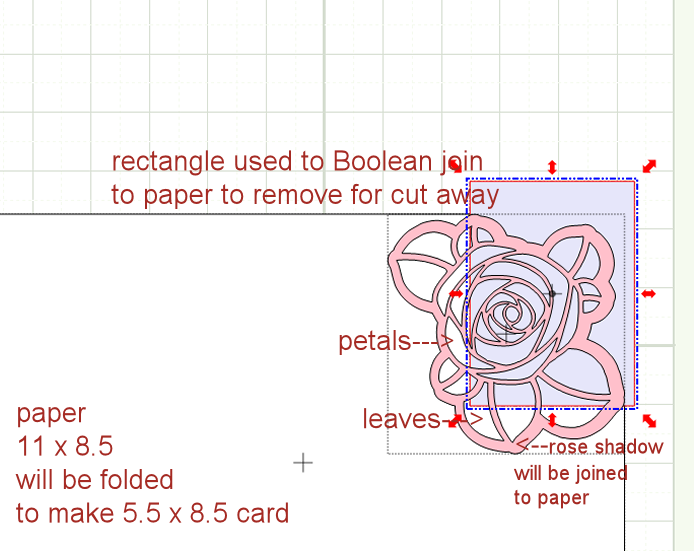 - Boolean join the paper and the cutaway rectangle
- Weld the paper and the rose shadow
- If the rectangle is not adequate to fill in all the gaps additional rectangles could be added and welded to get a complete fill in (for simplicity I needed not to have this happen)
oops missed that leaf at the bottom
Separate shadows were created to cut coloured papers for the rose and leaves to be applied behind the cut away (not shown).
Thanks Nelda for the inspiration!
Still using MTC but slowly migrating to SCAL. KNK cutters including the Force and Maxx Air continue to be my favourites. Fluent in other cutter languages.