Hello All!
This is a smaller update, but took a bit of time to get it put together.
In version 4.5.0 we added:
WPC File Importing
: You can now import WPC files covering versions 7.1 all the way up to 2012. MTC will import everything perfectly including textures, bitmaps, paths, etc. The only thing that isn't 100% correct is text that hasn't been converted to path format (which is pretty rare in the craft world). This was a pretty hefty file format so there may be some hiccups, but, for the most part it is 100% implemented. The import dialog will show a preview for easy importing: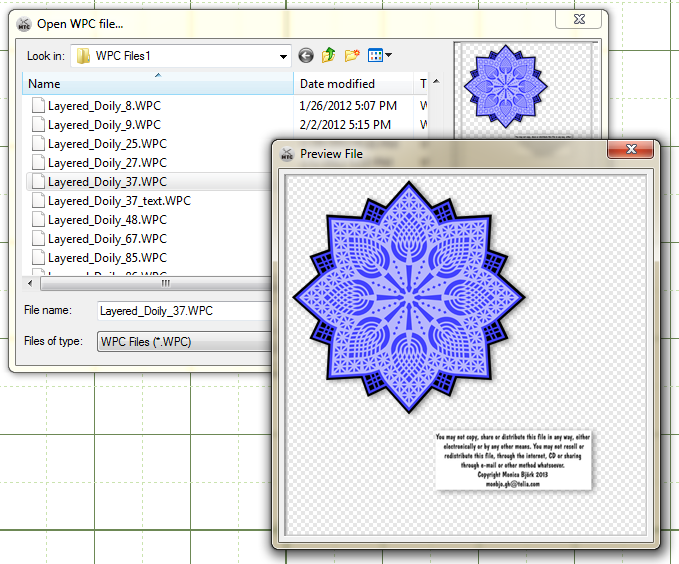 ---
Updated file importing for
: SCUT/2 and SVG. SCUT file importing is still experimental.
---
Duplicate Path Selection
: When you have some paths selected and then hold Shift+Control and then move them, they will automatically duplicate.
---
---
Version 4.5.1
Put out version 4.5.1 to fix a couple of bugs in SVG, SCUT2 and WPC file importing. Added more options to "Wrap Objects To Path" dialog. Finally, added a "Zoom All" (Shortcut CTRL+4) command. Will zoom out until all elements on the project are visible.
Edited to add: Here is a video showing the new features in Warp Object to Path:
http://www.screenr.com/8NL7
---
---
Version 4.5.2Rotating/flipping/mirroring Textures on mat
: You can now modify textures on the mat. No longer do you have to open the textture-edit dialog to do this.
Auto 4-Point Perspective/Bilinear Warp
: Hard to explain, so watch the video below!
5 minute video of the new features in 4.5.2:
http://www.screenr.com/Koq7
ETA: oh yeah -- new main icon as well! can't forget that part. No more ugly grey circle.
-----
There were other smaller bugs fixed and other smaller features updated, but for the most part, that is it for now!
Thanks to
@juliefes
for her help in implementing the WPC file format! She has been keeping us busy.
You can download the latest file on MTC's main download page:
http://www.make-the-cut.com/Download.aspx
Sincerely,
The Make The Cut! Team.
I don't often test my code... But when I do, I do it in production.