Hi all...
Being that it's Make The Cut!'s 3rd anniversary, we are going to release a new version with some cool new features.
In version 4.3.10, the following things have been added:
Shadow Size
: You can now specify the size of your shadow layer with a specific width (inches, mm. or cm.) We implemented a new shadow algorithm that is much more accurate. We also added in a miter limit when using a Miter shadow. To do "inset" shadows, simply supply a negative number. We believe this is the most accurate shadow layer functionality in the business.
---
Shadow Open Paths
: Shadowing is a complicated algorithm that usually requires polygons (closed path shapes). We figured out a way to shadow open paths -- and do it right: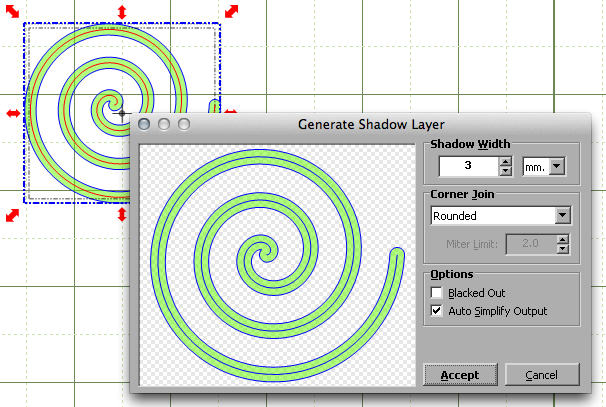 ---
Texture Snapshot
: We came up with a new feature that has never been done before. The "Texture Snapshot" is basically the "Anti-Trace". If you have a project that has a lot of pieces, but you don't feel like cutting out all of the pieces and putting it all together, just use the Texture Snapshot. What this will do is combine all the pieces together, convert it to a texture and save the outer-most cut lines. This will create a Print-And-Cut project from any SVG with the click of a single button.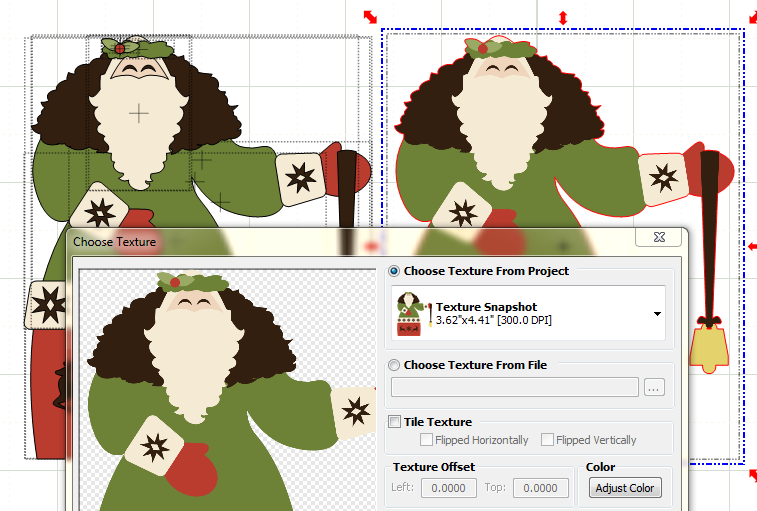 ---
Textured SVGs
: We have added in the ability to create, export and import SVGs which have Raster/Texture patterns within them. These SVGs can be uploaded to the Gallery as well. They also are compatible with Inkscape.
---
KB2753842 Fix
: Microsoft put out a security update that broke how most graphics programs handle Open Type fonts (OTF)... we fixed it. Microsoft will probably put out a fix that will un-break it what they broke, but we don't know when that will be.
UPDATE:
This bug was fixed with windows update KB2753842 v2.0 released on 12/20/12.
---
Gallery Downloading
: Make The Cut! will now download MTC projects from the Gallery and open them without having to save them first. This version will automatically name the project based on the title in the gallery. You can also download SVGs in color if they were uploaded in color.
---
Inkscape Integration
: After creating an SVG in Make The Cut!, you can import it to Inkscape and Inkscape will keep all the layers in tact. Also works with copying and pasting.
---
Rotate Textures/Paths
: After seeing how Bryan was rotating textured paths, we decided to do it programatically. You can now rotate textured paths, and the path will rotate with it.
---
"Rotate By" Setting
: A new setting in [Help>>Advanced>>Advanced Settings] allows you to set how many degrees to rotate by when using the CONTROL key. When rotating, the amount of degrees now shows up in the status bar of the program.
---
Selective Tracing
: When tracing, you can choose what to trace by drawing a rectangle around it in the Trace window. To draw the rectangle, simply hold the CONTROL key while left-click and dragging.
---
Raster PDF Import
: When Make The Cut! detects raster images inside of a PDF you are importing, it will let you know and give you an option to open it in Pixel Trace instead. The notification will be at the bottom of the PDF import file dialog:
---
Multiple Font File Import
: When importing a font, you now have the option to selecting multiple fonts at once. This works how you always have selected multiple files in Windows (Using the Control or Shift key while clicking on files)
---
Edge Align
: You can now align to the edge of another shape. Also, you can get to the Align menu a lot quicker now by holding the CONTROL key when right-clicking on the Virtual Mat.
---
Tons of bug fixes and smaller updates
: Bezier Node Tool now produces Neutralized segments automatically when drawing straight lines, Pixel Trace scaling now shows size when adjusting the slider, and many, many optimizations, code-fixes, etc.
---
Minor Updates from 4.3.0 to 4.3.10
: Since Adobe Illustrator exports SVGs incorrectly, we implemented a kludge to fix the SVGs as they are being imported to MTC. Fixed the WinXP bugs we found in the webinar. When doing the webinar on Tuesday, we ran in to someone who wanted to specify the stroke width and color. You will now find these options at the bottom of the SVG export file dialog:
---
SVG Import Update
: When you import an SVG where there are different colors in one layer, it will no longer join the differently colored shapes together. This will allow you to keep the correct colors of the SVG. We also added in fixes for more malformed Adobe Illustrator SVG files.
---
Delete Your Gallery Content
: If you upload something by accident to the Gallery, you can now delete it:
---
"Color Scans" Tracing Option
: You can now trace an image by specifying how many colors you want to import. Make The Cut will then reduce the colors to said amount and then name each color:
Here are three 5 minute videos which will give you a good introduction to this tracing method:
Video #1
Video #2
Video #3
---
Drag and Drop
: You can now drag and drop MTC, SVG and Raster files into a running instance of MTC.
---
Notes Window's Font/color
: The font and color is now persistent. If you change the font color and face, it will save the changes between MTC sessions.
---
SVG Bugs since version 1.0!
: There have been 4 bugs in MTC's SVG rendering since version 1.0... We have finally fixed them. You no longer have to change your settings in Inkscape to force repeating commands and not allow relative coordinates. Also, MTC handles Elliptical Arcs properly now along with quadratic bezier curves.
---
Raster PDF importing
: We think we have fixed this completely so it handles all PDFs with raster images inside of them.
---
Tons of bugs
: The whole reason we launch new versions in the forum is so everyone can participate and try out the new versions. This gives us a good idea of what issues needs to fixed right away before everyone else tries out the new stuff. So, for that we
thank everyone
for the feedback!
---
Cutting Order Fix
: MTC will now truly cut right to left -- even if the shapes are joined together in a group (Updated again in 4.3.7 to further optimize cutting order)
---
Extreme Speed
: Breaking, splitting, blackout, etc algorithms have been optimized to run 10-20 times faster.
---
ALSO
: Thank you to
@bryan
for all the stuff he does for our community and MTC... We spend a lot of time on the phone troubleshooting issues... There are a lot of things in MTC that wouldn't exist (let alone work correctly) if it wasn't for him. And of course, thanks to my wife
@ann
for putting up with me while I spend all this time updating everything. Obviously, it goes without saying that if it wasn't for her then none of this would be possible
Well, that about does it for now... If we think of anything else we forgot to let you know about, we will update this post.
Here is a
download link
to the Microsoft Windows version.
Here is a
download link
to the Mac OSX version (Cuts to all KNK machines including the Zing).
Note to Mac Users
: Please Use
App Cleaner
to remove the old version on your computer, make sure to backup your shapes and have your registration code ready.
Mac 10.8 Users
: The first time you run MTC, please use CONTROL-CLICK and select "Open" from the popup menu.
Happy Holidays to all, Happy New Year and Happy 3rd Anniversary, Make The Cut!
-The Make The Cut Team.
I don't often test my code... But when I do, I do it in production.